WHAT WE DO
National Development Foundation (NDF) is an Independent Civil Society Organisation and a grass root NGO working from the last three decades on issues related to Child Protection, Education, WASH, Youth Empowerment & Skill Development, DRR & Emergency Response and Nature, Wildlife & Climate Change, focusing on Children, Youth and Women. The organisation is familiar with the local situations and has an extensive presence in various districts across Jammu & Kashmir. NDF has brought positive changes in the lives of Children, Youth and Communities it worked for and has done a commendable job during the last three decades, which has been appreciated and recognised by Government, Communities, Stakeholders and Beneficiaries alike.
OUR IMPACT
Milestones achieved in Child Protection:
1.52 Cr. Population of Jammu region were sensitized on Child Rights and Child Protection, JJ Act and ICPS scheme.
Protection needs of 1,00,920 children ensured in 174 villages of 5 districts with established Child Protection Mechanism.
71000 children and 31422 Community members sensitized on child rights & child protection
4,024 children as members of 174 Children's Groups were provided opportunities and spaces to participate on issues which affect their life.
4064 Child Protection Committee members and 155 Block Child Protection Committee members work to resolve child protection issues
5 functional and operational District Child Protection Committees (DCPCs) comprising of approx. 25 members each.
provided psychosocial care to 4567 children through 83 Child Friendly Spaces (CFS)
80 members of civil society alliance and Civil Society organizations trained on JJ System and Child Protection Legislations
2271 Govt. Officials/NGOs/AWW/Student forums sensitized on Child Protection.
810 Police officials trained on JJ System
37 Caretakers of Children Homes trained on child friendly practices/child protection.
566 children living in 9 CCIs in 2 districts were trained on life skills
4277 persons sensitized on gender and female feticide to end violence against children
Milestones achieved in DRR & Emergency Response:
5561 persons including 1372 children living in villages located on LoC in Rajouri & Poonch districts trained on Landmine Risk  Awareness  and Safety Measures/do's and don'ts to be followed in cross border shelling and firing
4567 children were provided psychosocial care through 83 Child Friendly Spaces in villages located on LoC in Poonch & Rajouri districts
Appx 257 adults injured in landmines/ IEDs were checked up during the health checkup and referral camps.
2,356 families including 5,557 children  were provided life-saving humanitarian relief during disasters.
1900 students in  20 schools benefited through construction of  hand washing satiations/restoration of toilets.
177 persons including 71 children injured due to conflict in border villages across LoC like mine/IED blasts, cross boarder shelling/firing, encounters were referred for specialist services for advanced treatment
Aprx. 42,820 peoples from Rajouri District were aware about the  key compensation and social protection schemes of the Government.
Age appropriate hand washing stations were also constructed in 16 schools.
Milestones achieved in Education:
2650 VEC members  of 180 VEC Committees trained on their roles and responsibilities and  working
1184 members of Children Groups of 74 villages engaged in identification and enrollment of dropout/ never enrolled and identifying education related issues.
300 trained Master trainer on CFSA and quality education.
Improved quality of education for 7878 Children from 74 Villages benefited through quality education.
566 children of CCIs were provided educational kits
873 children from vulnerable families benefited through educational material support.
219 out of school/ never enrolled children counseled/enrolled in schools.
854 teachers trained / benefited through training programmes
200 head masters  trained on Child Friendly school approach.
287 teachers from 150 Schools trained on CFSA.
NDF train aprx. 150 ICDS staff and facilitate them to develop model ECCE center.
48 Model ECCE centers established in Jammu and Rajouri District.
Complaint boxes have been installed in 100 schools Of Rajouri District.
Milestones Achieved in Health & Nutrition:
4567 children were provided psychosocial care through 83 Child Friendly Spaces in villages located on LoC in Poonch & Rajouri districts.
Various Health checkup and referral camps organized in 257 adults were referred for super specialist treatments.
150 conflict affected children were referred for psychosocial support to psychiatric hospital Jammu
210 children provided cash assistance In Rajouri and Poonch District.
 NDF time to time organized Village Health & Nutrition day in their target areas.
Milestones achieved in Youth Empowerment & Skill Development:
Five Lakh Youth and adolescents attended National Integration camps, Youth Camps, Rallies and youth activities aiming at engaging youth in constructive activities.
400 youth imparted Vocational training under different trades under various programmes of NDF
500 youth attended youth exchange programme for exposure and learning.
600 youth attended adventure awareness camps and activities.
2500 youth and adolescents participated in adolescent Melas and exhibitions .
Apart from above a large number are youth are volunteers with NDF at grossroot level
Milestones achieved in WASH:
358455 people were aware about the WASH in 5 Districts through different activities (Like Mass awareness, through PAS system, School Competitions ect.)
75,907 community members including 12,348 children have adopted safe and healthy water, sanitation and hygiene practices in 490 villages 
5,032 children in 268 schools have improved access to WASH facilities
7,119 members of  237 Village Water Sanitation Committees trained on safe and healthy WASH practices
4,110 members of  443  PRIs and 1,836 grass root worker of PH.E department trained on WASH, water testing and managing water supply schemes
36,000 water connections tested from source to mouth in 5 districts.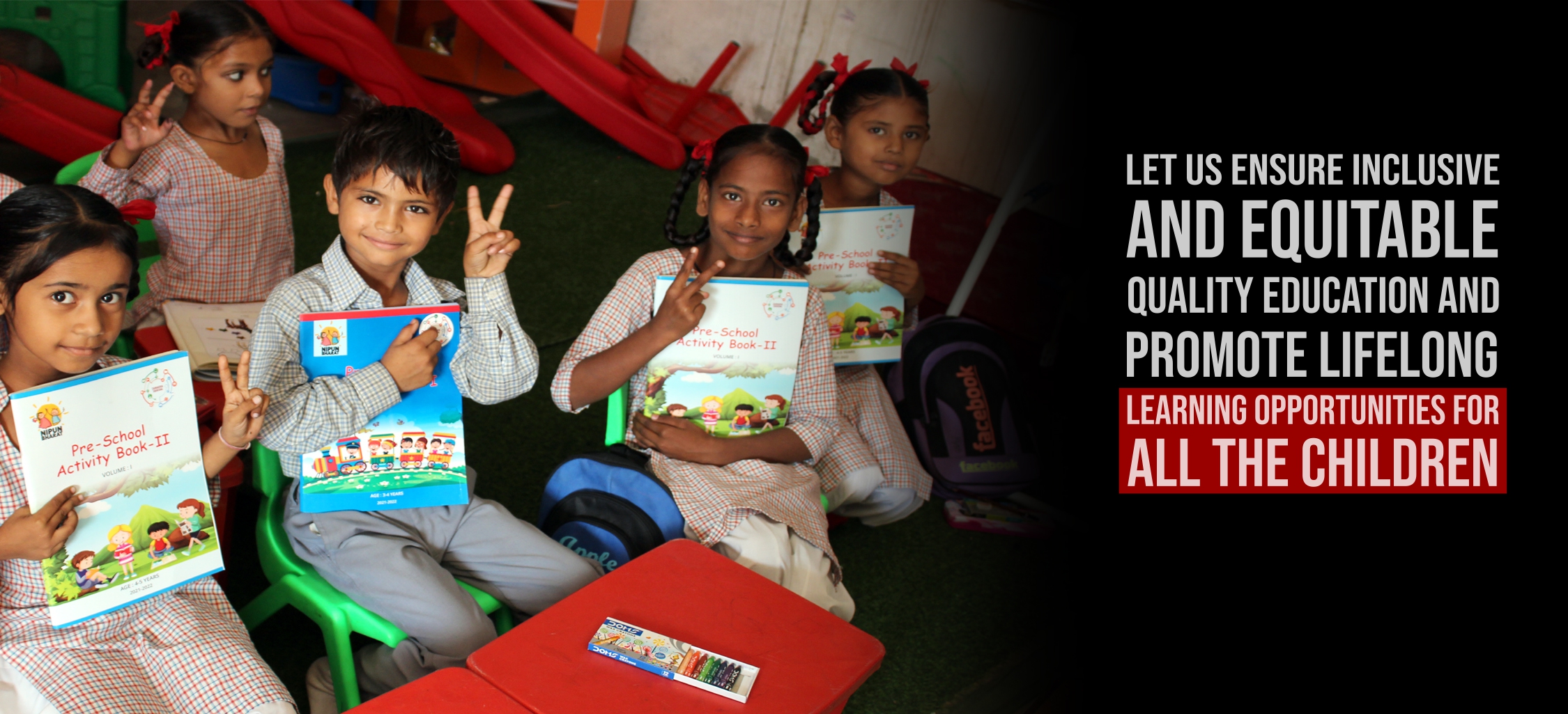 Our Interventions
in the last
three decades
×
Every Child has Right
to be in School
instead of workplace

Help us create
ZERO Child Labour ZONES