Press Release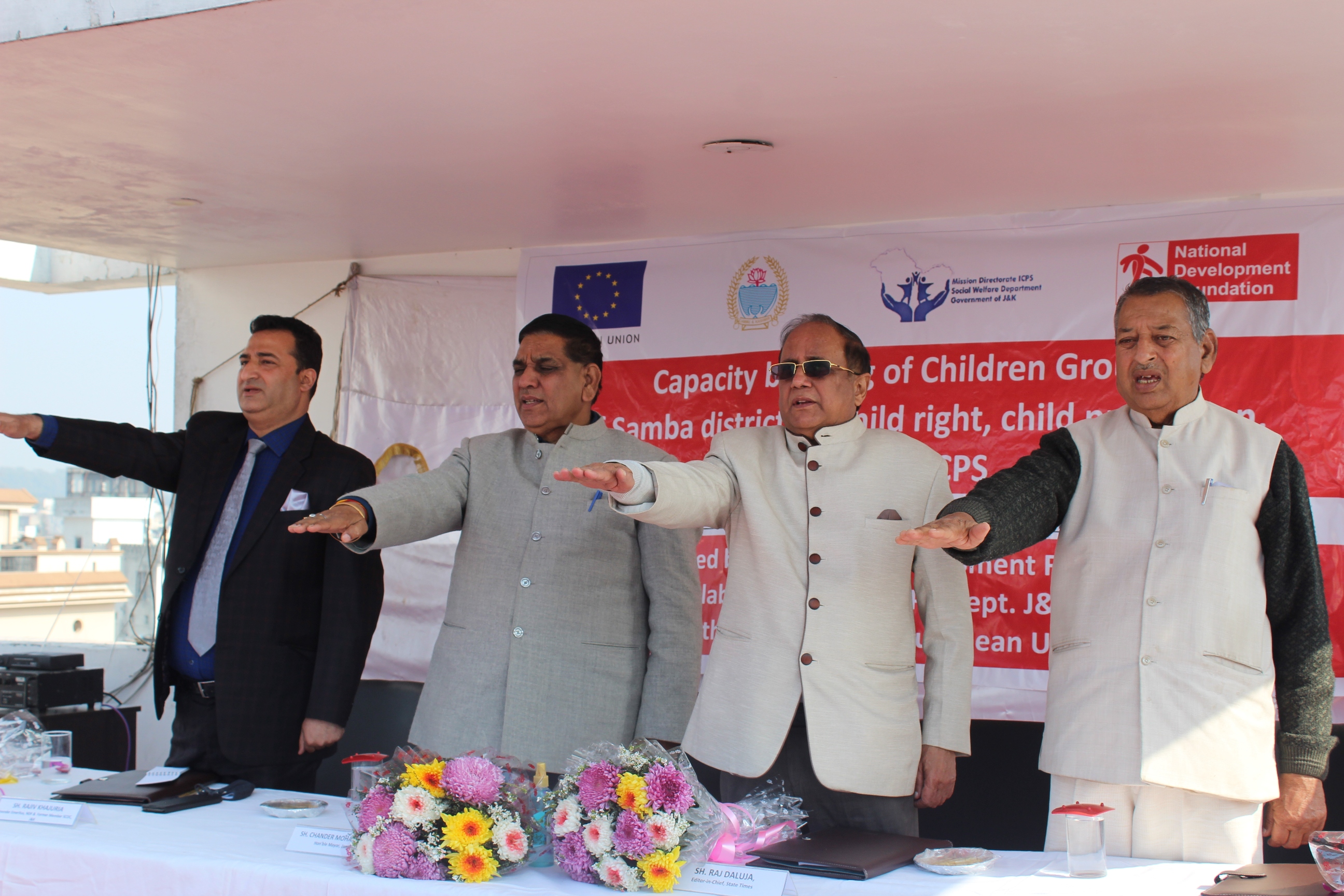 Supplement Child Protection Efforts in UT: Mayor
JAMMU: Mayor, Jammu Municipal Corporation, Chander Mohan Gupta, called upon the inhabitants of J&K to supplement child protection efforts in the UT.
He was speaking after inaugurating a Capacity Building Programme for the children groups of 10 villages of Samba district organized on Sunday by National Development Foundation (NDF) J&K Jammu in collaboration with Mission Directorate of ICPS, J&K with support from European Union.
Editor-in-Chief STATE TIMES, Raj Dulaja and Corporator, Suraj Padha attended the programme as Guests of Honour. Prominent among others present on the occasion include Advocate Rameshwar Jamwal, R C Puri, Prof. Pawan Sharma and Dr. Anil Chandan.
Programme Manager NDF, Sunny Kumar acted as resource person and sanitized children group members on child rights and Juvenile justice. Director Nature Wildlife & Climate Change (NWCC) Division NDF, Dr. Pankaj Chandan presented the vote of thanks.
Founder Emeritus NDF and former member SCOC, Rajiv Khajuria in his address gave in detailed account of child rights and Juvenile Justice Act and appealed all to be child friendly in their approach and conduct. Corporator, Suraj Padha congratulated NDF and assured full cooperation in JMC in child protection efforts. Raj Duluja in his address termed children as future of the nation and assured that he in his personal and official capacity will back all initiatives for the development of children. Mayor lauded the role of National Development Foundation and assured full cooperation of JMC and J&K administration to NDF in all their future endeavours. Elaborating further, he reiterated the need for ensuring child labour free zones in the JMC limits in particular and other parts of the UT in general. He appealed all his Corporators to work for proper care, protection and development of the marginalized children residing in their wards and seek technical support from National Development Foundation in this regard, if required.
Later Mayor , Corporator and other dignitaries conducted the tour of the lanes and drains of Ram Janki Enclave. Mayor issued directions to the technical wing of the JMC to prepare estimates for tiling work in Ram Janki Enclave and temple vicinity. He asked Suraj Padha concerned Corporator to supervise this and seek his support wherever required.