SIMRAN- THE ROLE MODEL
Simran Roy of Dharam a far flung Village in Gool block Ramban district of J&K, India, came to the limelight on July 17, 2016 which became a "Red Letter Day" in her life.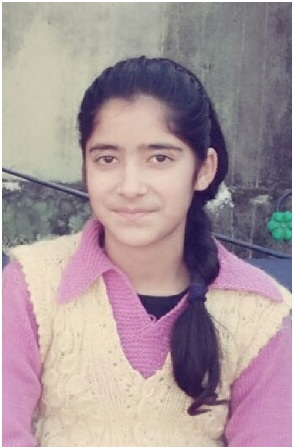 Simran Roy D/O Sh. Chain Singh, a teacher in Govt. High School Dharam participated in District Level debate competition organized by National Development Foundation in Govt. Higher Secondary School Gool on July 17, 2016 in which Simran bagged the first prize.
On account of her performance, Simran was selected for an exposure to Nepal in Sept. 2016 during which she visited the important; places like Katmandu and Dadaldura and interacted with different Stakeholder "My exposure tour has changed my world. I am no longer a shy, reticent village girl. I have improved myself in education as well as my vision about the world" says Simran.
Simran's father Chain Singh feels elated and proud about his daughter's performance. "I am happy to see a sudden transformation in Simran's vision and her confidence. She has now fully realized the rights and duties of a child student".
Simran has now made it her target to visit the different rural schools of district to aware the students especially the girls about the vast world around and their rights and duties. Watching Simran speak about the world is eagerness in the student community especially the girls who have now started demanding the arrangement of similar exposure tours for them as well. Simran has become a lead student. Simran and her friends are now voicing for their rights like separate toilet facility for girls in schools , provision of sports material for girls .A group of students led by her also met DM Ramban who has ordered for provisioning with special focus on girls. Now girls also participate in co-curricular activities and have developed interest in education. Simran effect has provided a ray of hope and changes are visible but more need to be done for many Simrans who just need an opportunity.
Your financial assistance/donations can provide opportunities of exposure to the rural girl's students to see and observe the vast world around.